Databases and e-resources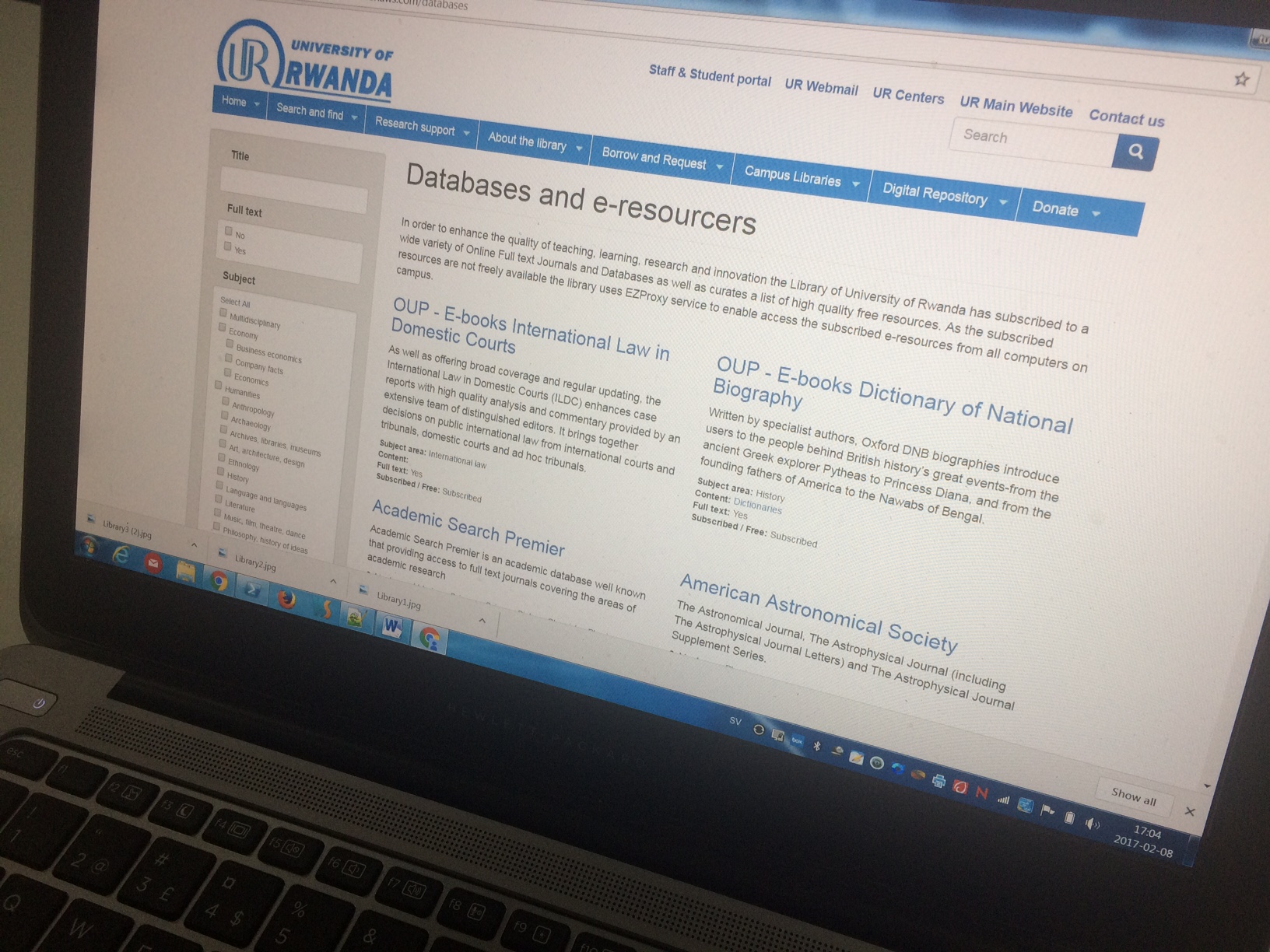 In order to enhance the quality of teaching, learning, research and innovation the Library of University of Rwanda has subscribed to a wide variety of Online Full text Journals and Databases as well as curates a list of high quality free resources. The library will eventually use an EZProxy service which will enable the users to access the subscribed e-resources also outside the campus network.
If you are on UR campus try out our new LibHub discovery tool. Note this is only available on UR campus network.
The Astronomical Journal, The Astrophysical Journal (including The Astrophysical Journal Letters) and The Astrophysical Journal Supplement Series.

Subscribed / Free:

Subscribed

The American Chemical Society is the leading publisher of peer-reviewed research journals in the chemical and related sciences.

Subscribed / Free:

Subscribed

AIP publishes journals, magazines, and a conference proceedings series on applied and multidisciplinary physics . AIP's Scitation platform hosts several articles from many scholarly publications.

Subscribed / Free:

Subscribed

The American Physical Society and the Physical Review Online Archive serve to produce and diffuse the knowledge of physics, molecular and optical physics through its wonderful peer reviewed research journals. .

Subscribed / Free:

Subscribed

Annual Reviews publications prioritize and synthesize the primary research literature in several disciplines on biomedical/Life Sciences, physical sciences, social Sciences and economics.

Subject area:

Economics, Veterinary Sciences, Physics, Geography

Subscribed / Free:

Subscribed

The Journal of the Acoustical Society of America has been the leading source of theoretical and experimental research results in the broad interdisciplinary study of sound. Subject coverage includes: linear and nonlinear acoustics; aeroacoustics, underwater sound and acoustical oceanography; ultrasonics and quantum acoustics; architectural and structural acoustics and vibration; speech, music and noise; psychology and physiology of hearing; engineering acoustics, transduction; bioacoustics, animal bioacoustics.

Subject area:

Physics, Engineering

Subscribed / Free:

Subscribed

ASABE Technical Library includes a range of content including journals, textbook materials, monographs, standards and proceedings as well as the important reference work-in-progress, Design Topics. Subject Strengths: agricultural engineering, agricultural health and safety, power and machinery, soil and water, food and process engineering, structures and environment, information and electrical technologies, biological engineering and Forest engineering.

Subject area:

Science, Agriculture

Subscribed / Free:

Subscribed

Access to British Journal of Radiology (BJR), BJR/case reports and Dentomaxillofacial Radiology (DMFR).

Subject area:

Medicine and health

Subscribed / Free:

Subscribed

Cambridge Journals online provide access to a variety content in politics, linguistics, humanities, law, mathematics and Medicine.

Subject area:

Humanities, Science, Social sciences

Subscribed / Free:

Subscribed

Canadian Science Publishing (publisher of the NRC Research Press journals) is an independent publisher devoted to serving the needs of researchers and their communities by publishing peer-reviewed journals and supporting the knowledge-sharing activities of scholarly societies.

Subject area:

Medicine and health

The Cochrane Library is a collection of online searchable databases containing high-quality, independent evidence to inform healthcare decision-making. The Cochrane Library provides access to Cochrane review and other sources of reliable information, from other systematic reviews abstracts, technology assessments, economic evaluations and individual clinical trials all the current evidence in one single environment.

Subject area:

Medicine and health

Subscribed / Free:

Subscribed

Access to a wide variety of content in history, law, linguistics and communications, literary studies, mathematics, medicine, natural sciences, philosophy, social Sciences, theology, judaism and religion. Includes titles which are in the highest ISI ranks. Some journals have German-language titles and include contributions in English and other languages.

Subject area:

Humanities, Law, Medicine and health, Science

Subscribed / Free:

Subscribed

Access to publication on library and information science journals.

Subject area:

Archives, libraries, museums

Subscribed / Free:

Subscribed

The Directory of Open Access Books (DOAB) is a discovery service for peer reviewed books published under an open access licence. DOAB provides a searchable index to the information about these books, with links to the full texts of the publications at the publisher's website or repository.

The Directory of Open Access Journals (DOAJ) lists free, full text, quality controlled scientific and scholarly journals, covering all subjects and languages.

The Directory of Open Access Resources (OpenDOAR) aims to provide a comprehensive and authoritative list of academic open access repositories for end-users who wish to find particular archives or who wish to break down repositories by locale, content or other measures. Users can search for repositories by the following regions: Africa, Asia, Australasia, Caribbean, Central America, Europe, North America, and South America.